House in Willcox (Pg 19)
After installing a new hot water heater, fixing a lawn mower so my wife is able to start it and mow the yard, I was able to get back to the house construction. The fourth wall was framed up and erected. Hurricane ties and strong-ties were installed along with additional strapping. Some of the wall sheathing was also installed while waiting for the trusses to be delivered.
All four walls are up.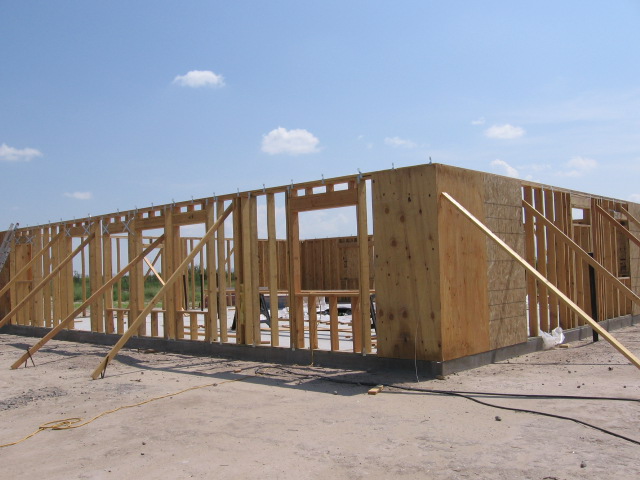 Hurricane ties, strong ties and strapping in place.
Sheathing on the walls.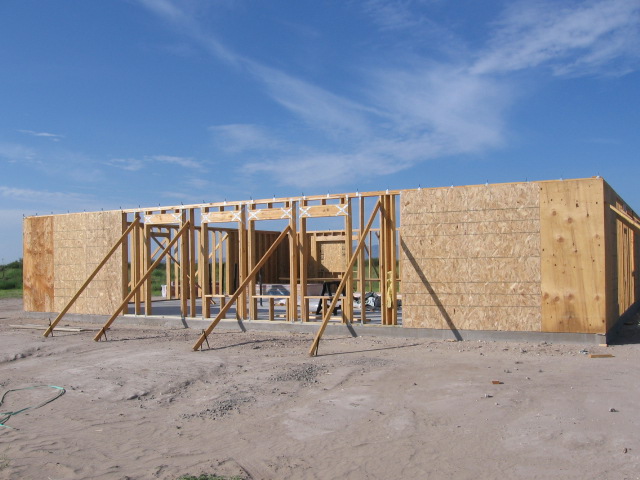 Trusses delivered.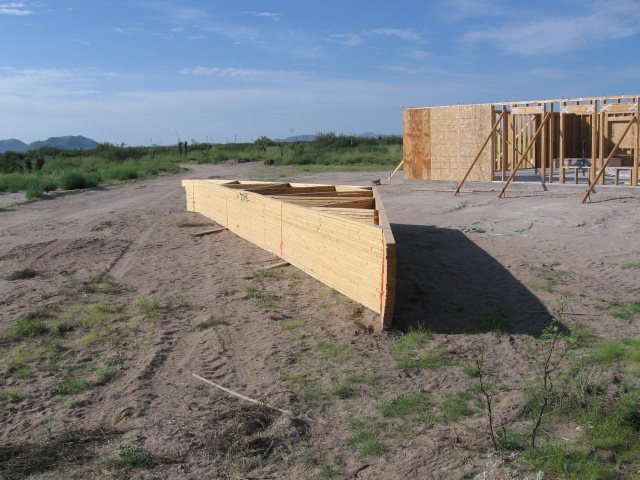 The trusses will be placed into position in the near future. A crane or boom truck is required as these trusses are 45' long and just under 9' high at the peak. Because of the location (small town area) a boom truck or crane are not readily available, however one has been lined up for the job. It is just a matter of waiting my turn. Aaagh!
Standing inside the corner looking out.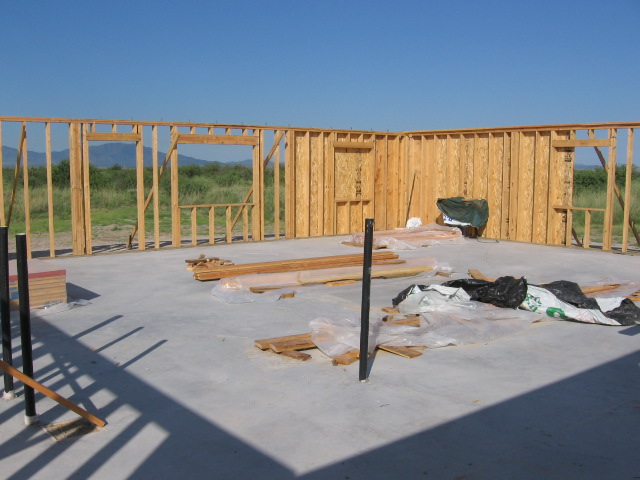 The saga continues. The boom truck that was lined up for the labor day weekend did not pan out. The guy went turkey hunting and did not bother to call saying that there would be a delay. When I finally got in touch with him he said it would still be another two weeks or more before he could get to me. It has now been a little over three weeks. Double aaaagh! Back to square one.

Now to try and find another boom truck. I was given a guys name who was supposed to have one. Contacted him and he had sold it and of course he did not know where it had gone. Still looking. Yeah, I found one. Called them and they can get to me in two weeks. Set the date and time. Called some guys to make a crew and now we are all set. Oh no. The company called back and said they were not sure if they could make the date and time with the boom truck because it had a major hydraulic leak. They could tell me yea or nay in a couple of days. Mean while I am in limbo---again. As per the way things go, they did not call back, so I called them. It looks like it is still a go for one week from today. I'm keeping my fingers crossed. Ha!

Previous Page&nbsp &nbsp &nbsp Next Page