House in Willcox (Pg 22)
The rest of the facia has been installed and primed. Now it was time for the shingles to be installed. I had estimated that this would take about a week for me to complete. Well estimates and reality are two different things. Ha! It actually took two weeks to get the shingles installed. The windy conditions made it tricky for a one-armed paper hanger like me to get it done. I lost the first four rows of black felt I put down. A gust of wind came out of nowhere and whoop it was gone. Then it came to plan two--A little bit of black paper down and then shingles, a little bit of black paper then more shingles, etc. The boss picked the style and the color of shingles and seems to be happy with the end results. The cap still needs to be installed on the ridge, but the boss decided I needed more shingles to do this to her specifications. She read where it would look better if the cap was doubled. Oh well, you have to keep the boss happy!
The first picture shows the layout of things also. The small building in the center of the picture is the well house with a supply of railroad ties stacked in front of it. The trailer on the right is my humble aboad until I get the house completed. Oh what a life. Ha!
Side that needed more facia and the front of the house with the shingles installed.
Back of house with shingled roof.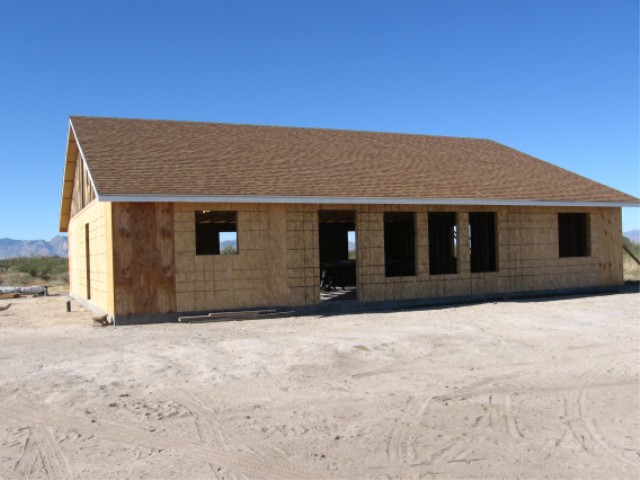 Previous Page&nbsp &nbsp &nbsp &nbsp &nbsp Next Page